We are Your One-Stop Shop For All Your Vehicle Wraps, Graphics, Signs, & Apparel.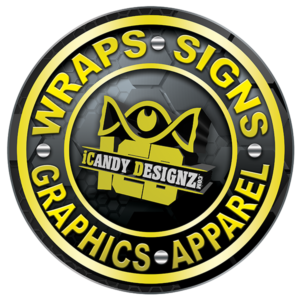 Experience the iCandy Difference
Service | Quality | Convenience
Our customers are more than just dollar signs, They are our community-partners we work with to achieve success.
The team at iCandy Designz is dedicated to Service and Quality with every project. We believe in building relationships to help You Succeed.  At iCandy we take you beyond just looking like everyone else to "the best" in your profession.   We stretch the limit to take you from "ordinary" and push your idea to "EXTRAORDINARY". 
Our eye-catching designs bring your vision to LIFE. We achieve all this by working closely with you to coordinate the look you desire.  Whether you are coming in for Vehicle Wraps, Graphics, Logo Design, Branding, Printing, Signs, or Apparel our years of expertise distinguishes us as the best in what we do.    Let iCandy Designz help you achieve what it is to become Extraordinary!  We invite you to stop by to Experience the iCandy Deference.